Three's a Crowd
Vampire Diaries is a huge hit. As most of you know, the show was based on the books by L.J Smith, which she started back in 1999. This was the original love triangle staring a human female with two supernatural males. I had people tell me, "Hey! Vampire Diaries copied Twilight!" Well, that just isn't correct. Vampire Diaries 1999- Twilight 2005. I'm not saying Stephanie Meyers copied, I'm just saying that Vampire Diaries was the original.
On to the Love Triangle:
Elena/Katherine
Damon
Stefan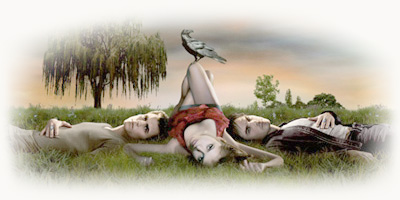 Pretty hot triangle, am I right.But honestly, all I want is for Elena to wake up and choose Damon. Not just because Demon is extremely good looking(LOL), but because he could be so good for Elena,and Elena, him. Theres something fishy going on with Stefan, I don't know what, but I don't trust him. :P
As a love triangle, it's pretty good. Elena loves Stefan, and has "feelings" for Damon. Stefan loves Elena and possible Katherine.. (Which makes it a love square) And Damon loves Elena, in whatever he can love her. (Since Damon is a bit unpredictable when it comes to anything.. HA)
Quotes:
Damon: I tried to kill a werewolf, I failed. Now I feel like I'm not living up to the version of my best self.
Katherine: Bad day.
Damon: Bad century.
Damon: I always pegged you for a lone wolf.
Mason: I'm sure I wasn't half the lady killer you were.
Mason: I've heard a lot of great things about you.
Damon: Really? That's weird because I'm a d**k.
Damon: I don't peace.
Stefan: Oh. Consider it opposite day.
Caroline: You're gonna be 70 and in diapers and he's still gonna be smokin hot.
Stefan: Why are you back in town?
Katherine: Three reasons: you, you, and you.
If I had to rate the "Triangle/Square" I would rate it a

7 out of 10!