Q & A With Carrie Vaughn!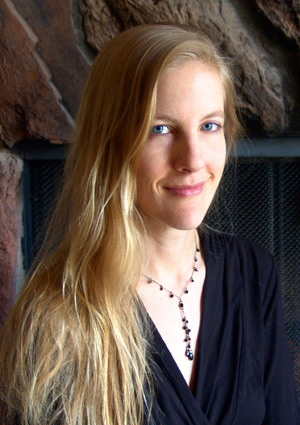 Favorite Authors (you can tell so much from a person by this list): Ray Bradbury, Robin McKinley, Charles Dickens, Joseph Conrad, John Steinbeck, Shakespeare, Sylvia Plath, Patricia McKillip, Connie Willis, Ursula LeGuin, Steven Brust, Phillip Pullman, Guy Gavriel Kay, Lois McMaster Bujold, Neal Stephenson, Jonathan Lethem, Arthur C. Clarke, Peter Beagle, Iain Banks, Steven Erikson, etc. etc.
Welcome Carrie! Thanks for Stopping by!



So far, it's been a beautiful Fall. What are your plans for this season?
Catching up on work, mostly. I spent much of the summer traveling, so I'm hoping to stay home for a bit and play catch up.

Do you celebrate Halloween??
I do -- I usually try to hit at least one costume party, because I love dressing up. The local Denver science fiction convention, Mile Hi Con, is usually a week or two before Halloween so I get a bit of a costume fix there as well. I always buy candy for the trick or treaters, but I'm often not home Halloween night, which means I get to eat all the candy myself...

You now have 3 amazing series under your belt. Kitty Norville's series being the longest. How long is the Kitty Norville series going to be?
Technically, I only have the one series. Discord's Apple is a stand-alone novel, and Voices of Dragons doesn't have a sequel yet. I don't know exactly how long the Kitty series is going to be. I do know how it ends, and I know what the last book looks like, but I keep getting ideas in the meantime so I don't know exactly when it's going to be.

Your faily new to the YA genre. For you, how was it writing a Young Adult book? Easier or more difficult that an Adult genre book?
Writing a YA book wasn't too much different than writing an adult genre book. With both of them you have to understand your main characters, get inside their heads, and stay true to them. With a YA book you're often doing that for a teenager rather than an adult. But in both cases you have to be true to that character.

Voices of Dragons is your first YA novel. You decribe it on your website as being - just your typical "girl meets dragon" story. With bonus rock climbing and

jet fighters! - I love it! What made you think.."Hrm, I'm going to do a story with dragons!" (Not that I knew what you were thinking..)
I had the idea for a long time -- I originally tried to write it as a fantasy genre novel rather than YA. The image I started with was of someone riding a dragon, flying around and filming the flight with a video camera. That scene didn't make it into the book, but I was intrigued with the idea of dragons being in the modern world, with technology and so on. I wanted to build that world and figure out how it worked.

I'm a sucker for good cover art, and all your books have great covers. Who is your cover art designer?
It's the art departments of my various publishers who design the covers. For the YA books that would be Harper Teen, for the Kitty books it's Grand Central and Tor, and for Discord's Apple it's Tor. The art departments hire artists to do the artwork, and designers put the cover design together, and then they make tweaks based on feedback from various people. It's a team effort.

I love when a book has a US cover and a UK cover. It gives the readers an extra point of view of the book. I especially loved both of your Kitty Goes to War

covers. Which one do you prefer?
(Covers are at the bottom)
Well, I like them both. They both have different feels to them. I have to say I like the camo shirt in the US version.

Kitty Goes to War is your 8th book in the series. And it's been one of my favorite series since book one. Did you expect Kitty to come this far?
Not really. When I first came up with the character, I just wrote a short story about her because I was mostly writing short stories at the time. Then I wrote the novel, and I thought the series would be maybe four or five books. But I've kept getting new ideas, and the storyline has kept expanding, so here we are. The ninth book, Kitty's Big Trouble, will be out next June, and I'm working on the tenth book now.

Do you have any upcoming events you'll be doing a reading or Signing at?
Probably, but I'm still setting up next year's schedule so I don't really have details yet. You'll have to check the website. Oh, there is Mile Hi Con in Denver that starts October 22, and I'll be there.

Do you have anything that your currently working on?
I'm always working on a ton of stuff. Right now I'm working on the tenth Kitty novel, plus I'm putting together a collection of the Kitty and related short stories. It'll be out next August, and it's called Kitty's Greatest Hits. I also have another YA novel, Steel, due out in March, and another stand-alone novel, After the Golden Age, due out in April. So yeah, I'm busy!

A Few Quickies:

Cats or Dogs?

Reading or Writing?
Both! Can't have one without the other.

Summer or Winter?

Werewolves or Vampires?
Ghosts or Zombies?

Horror or Comedy movies?
Neither, really, because it's really, really hard to do either one of them well.
Thanks for stopping by Carrie! :)