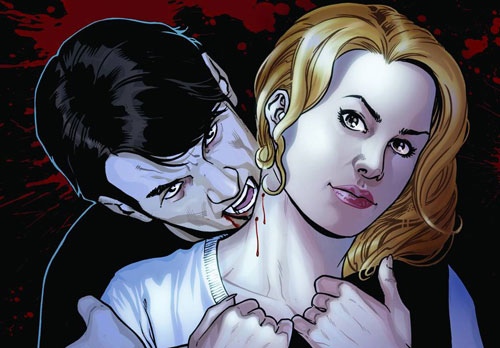 For those who are fans of the True Blood series and Graphic novels, will be excited to know that IDW is releasing the new graphic novels in February! I know I'm excited! The art will be by Joe Corroney, and the covers by Corroney and J. Scott Campbell.
Here's a sneak peak :
Taken from
ComicShopLocator.com
This new storyline involves Jessica going postal because of her exposure to contaminated blood. It's up to Sookie, Bill, and others to try and figure out how to stop Jessica from going totally berserk. The story also introduces TV characters for the first time in the IDW comic series. Characters lined up for the spotlight include Hoyt, Terry, Arlene, and Steve Newlin.
A hardback collection of the first True Blood series is reportedly lined up for a February release date.
Check out interiors from the previous series!
Looks good! What do you think? Will you buy them? Borrow them?