MaryJanice Davidson Biography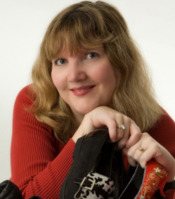 MaryJanice Davidson invented a) her children, and b) the vampire chick lit genre. Also the Internet. She is kind to (some) children and (occasional) small animals, and enjoyes referring to herself in the third person. Appearing several times a year on the best-seller list, as well as occasional Federal "person of interest" sheets, she takes time from the living hell that is being paid to do what she loves best to seek out the nearest Cinnabon franchise. Her goals include working for world peace, figuring out how to make potstickers, and speaking at writer and reader conferences around the world. (Australia is still recovering.)
You can check out the antics of some of MJ's heroines (Vampire Queen Betsy, FBI Agent Cadence/Shiro/Adrienne, and Jennifer Scales), eyeball book excerpts, see where she'll be any given week, play the "who do you want to play Betsy/Cadence/Jennifer in the coming movie?" game with other fans, and mock her weekly blog at
http://.maryjanicedavidson.net
. She occasionally tolerates getting mail from readers at
[email protected]
, has a
Facebook page
, and absolutely zero interest in Twitter.
Hi MaryJanice, and thank you for stopping by for a interview:
I read in a recent post of yours that you receive fan mail from all over the world(not just from the US). Which Country/area do you receive the most and funniest fan mail from?
Most of my international fan mail is from Germany and Australia. Both are funny, but for different reasons. My German readers tend to send me letters in perfect, amazing English which they apologize for ("I'm sorry my missive is so riddled with loathesome errors"), then they compliment my work, and then they apologize for bothering me with their beautiful letters filled with perfect English.
My Australian fans tend to write long letters filled with a different kind of hilarity, letters where they make fun of themselves and the funny things that happen to them because they're reading my books, or tthe funny thing that happened to their friend/mom/neighbor/sister/uncle/doctor/boss who they got hooked on my books.





Me, Myself and Why

is to be released in September

. (I can`t wait!) Do you plan on making it a long series?
It's contracted to be a trilogy; I'm working on book two, ENEMY MINE, right now. I guess we'll see if it goes beyond 3 books!
Betsy is a one-of-a kind character. She`s got it all, looks, fashion and a fang-some man. Where did you come up with Sinclair`s character? Was he all in your head, or based on somebody in particular?
A little of both, sort of. (How's that for vague and unhelpful?) Sinclair is an amalgam of several men I know (and yes, before you ask, that includes my husband!).
Your Queen Betsy series has amazing cover art, plus I`m a sucker for a cute cartoon. Both, your cartoon and regular cover art is awesome. Which do you prefer?
I love them both, for different reasons. I loved the cartoon covers because, at the time, they were the only ones of their kind and they were clever and cool. And I love the new, edgier ones because they reflect the edgier tone the series has taken, but still acknowledge the laughs. I get much less fan mail from 11 year old girls now that the UNDEAD series covers aren't represented by cartoons, which is a relief!
Okay, here`s a silly one...If you were stranded on an Island, and only ONE pair of shoes survived. Which pair would they be? (I know, I`m evil :P)
Well, I'm not a shoe maven like Betsy is, so I'm not sweating this question at all (so ha!
). Flip-flops, of course...it would suck to be on an island with bare feet...sometimes the stuff lurking in the sand can be sharp/pointy/jagged/toothy.
Night OR Day?
Day...I'm a suburban mom, so I'm pretty dull, actually.

Black OR White?
Black. I also have the thighs and hips of a suburban mom. Black leggings are my friend.

Cats OR Dogs?
Dogs! Ones that weigh more than 12 pounds. So, REAL dogs. ;-)

Lipstick OR Mascara?
Lipstick! My lips are eternally chapped. Also, I've never liked mascara...even when I was modeling, I couldn't stand putting it on.

Writing OR Reading?
Nope. Not gonna choose. Can't!

Thanks again MaryJanice, and I hope you enjoyed my pesty questions!
My pleasure; thanks for your patience!
--MJ
Thanks again MJ, This was fun!