I have to admit, the last 2 years, I haven't really kept up with the challenges. I wanted to, but I ending up forgetting and some how getting lost along the way. This year I want to change that, and I want to "challenge" myself. I have to complete at least 1 challenge, but I wish to complete around..3!
Here's my first two Challenges that I signed up for!
Challenge #1!
http://www.bookchickcity.com/2010/11/sign-up-horror-urban-fantasy-reading.html
24 Books is the minimum, and I'm pretty confident with that, but I will try for more!
Now on to challenge #2!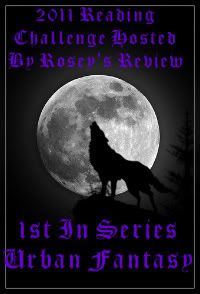 Hosted by my friend Rosey of Roseyreviews
Here's the list & Levels:
The List: (highlighted author names are books I have already read)
Undead and Unwed (Undead)-

MaryJanice Davidson


What's a Ghoul to Do? (Ghost Hunter Mystery)-

Victoria Laurie


Summon the Keeper (Keeper's Chronicles)-

Tanya Huff


Tempest Rising (Jane True)-

Nicole Peeler


Magic Bites (Kate Daniels)-

Ilona Andrews


Dead Witch Walking (Rachel Morgan)-

Kim Harrison


Moon Called (Mercy Thompson)-

Patricia Briggs


Magic In The Bone (Allie Beckstorm)-

Devon Monk


Guilty Pleasures (Anita Blake-)

Laurell K. Hamilton


Ill Wind (Weather Warden)-

Rachel Caine


Touch The Dark (Cassandra Palmer)-

Karen Chance


Working For The Devil (Dante Valentine)-

Lilith Saintcrow


Halfway to the Grave (Night Huntress)-

Jeaniene Frost


Unholy Ghosts (Downside Ghosts)-

Stacia Kane


Stray (Shifters)-

Rachel Vincent


Kitty And The Midnight Hour (Kitty Norville-)-

Carrie Vaughn


Darkfever (Fever) -

Karen Marie Moning




Happy Hour at Casa Dracula (Casa Dracula)- Marta Acosta


Spider's Bite (Elemental Assasin)- Jennifer Estep
Storm Born (Dark Swan)- Richelle Mead
Staying Dead (Retrivers)- Laura Anne Gilman
Dead Until Dark (Sookie Stackhouse) - Charlaine Harris
Succubus Blues (Georgia Kincaid)- Richelle Mead
Urban Shaman (Joanne Walker)- C.E. Murphy
Full Moon Rising (Riley Jensen)- Keri Arthur
A Rush of Wings (The Marker's Song)- Adrian Phoenix
Night Rising (Vampire Babylon)- Chris Marie Green
Nightwalker (Dark Days)- Jocelynn Drake
Mind Games ((The Disillusionists)- Carolyn Crane
Red-Headed Stepchild (Sabina Kane-)- Jaye Wells
Some Girls Bite (Chicagoland Vampires)- Chloe Neill
Greywalker (Greywalker)- Kat Richardson
Night Shift (Jill Kismet)- Lilith Saintcrow
Dying Bites (The Bloodhound Files)- D.D. Barant
Grave Witch (Alex Craft)- Kalayna Price
Three Days to Dead (Dreg City)- Kelly Meding
Undone (Outcast Season) -Rachel Caine
Heart Of Stone (Negotiator Trilogy) -C.E. Murphy
Rosemary and Rue (October Daye)- Seanan McGuire
Deadtown (Deadtown)- Nancy Holzner
Hard Magic (ParanormalSceneInvestigations)- Laura Anne Gilman
Once Bitten, Twice Shy (Jaz Parks)- Jennifer Rardin
Unclean Spirits (Black Sun's Daughter)- M.L.N. Hanover
Hunted By The Others (H&W Investigations)- Jess Haines
The Devil Inside (Morgan Kingsley)- Jenna Black
Trick of the Light (Trickster)- Robyn Thurman
The Iron Hunt (Hunter Kiss)- Marjorie M. Liu
Personal Demons (Megan Chase)- Stacia Kane
The Becoming (Anna Strong)- Jeanne C. Stein
Midnight's Daughter (Dorina Basarab) - Karen Chance
The Sweet Scent of Blood (Spellcrackers.com) - Suzanne McLeod
Howling at the Moon (Tales of an urban werewolf) - Karen MacInerney
Burning Water (Diana Tregarde)- Mercedes Lackey, Hugh Syme
Queen of Shadows (Shadow World)- Dianne Sylvan
Highborn (Dark Redemption)- Yvonne Navarro
Dead, Undead, or Somewhere in Between (Rhiannon's Law)- J.A. Saare
Blood Law (Alexandra Sabian)- Jeannie Holmes
Black Wings (Madeline Black)- Christina Henry
Spiral Hunt (Evie Scelan)- Margaret Ronald
Right Hand Magic (Golgotham)- Nancy A. Collins



Some are lighter and some are darker. I think it makes it interesting :).




Levels:
Seed: Read 5-15 novels
Bud: Read 16-25 novels
Flowering: 26-35 novels
Bloom: 35- 45 novels
Full Bloom: Read whole list!
I read most of these already, but I want to re-read them, so I'm hoping for at least a Bud, but aiming for Flowering!