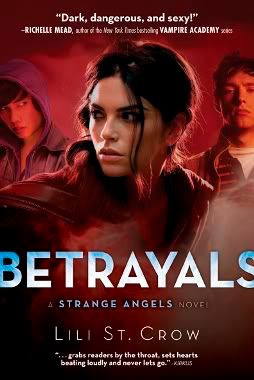 Betrayals
by Lilith Saintcrow
My rating:

Frigging Amazing! Why did it have to end?!
Genre: Young Adult
Paperback: 304 pages
Publisher: Razorbill
Synopsis:
She's no angel . . .

Poor Dru Anderson. Her parents are long gone, her best friend is a werewolf, and she's just learned that the blood flowing through her veins isn't entirely human. (So what else is new?)

Now Dru is stuck at a secret New England Schola for other teens like her, and there's a big problem— she's the only girl in the place. A school full of cute boys wouldn't be so bad, but Dru's killer instinct says that one of them wants her dead. And with all eyes on her, discovering a traitor within the Order could mean a lot more than social suicide. . .

Can Dru survive long enough to find out who has betrayed her trust—and maybe even her heart?
My Thoughts:
Betrayals is the second novel in the Strange Angels series by Lili St. Crow A.k.a Lilith Saintcrow. Lilith is one of my favorite authors, and I was shocked that I haven't read any of her YA novels yet. I guess I just wasn't in a YA reading mood, but after reading the synopsis for this series, I had to pick it up!
I read Strange Angels(book 1) and Betrayals(book 2) within a day and a half. I was hooked. Strange Angels was a good read, but betrayals was amazing! I heard Jealousy is even better. I'll find out tonight!
First off, I want to say that, although the covers look nice on the computer, in person they are beautiful. Looking at them on computer just doesn't do them justice!
Dru Anderson is a 16 year-old girl who's life has been turned up side down in little to no time at all. She's lost her father and mother, and is now in life threatening danger. Thanks to her father, she's been trained to fight and kill, and with what she's been through, it's thankful she's been. As a character, I like her. I have found when she's asked a question or she is about to say something, she something thinks it out in more than a few sentences. half a page later and she only says one thing out aloud, but honestly it didn't bother me much, because it was such an interesting novel.
Both Christophe and Graves grow as characters, and I find it hard to choose who I like more. Both are interesting, with a mysterious past, good looking and are good to Dru. They can be both charming and quirky, and are excellent characters for this series.
Sometimes I found this series had the Vampire Academy series feel to it, but I read that some have thought that it reminded them of Twilight. - Human girl, Vampire-ish and Werewolf-ish guys. I honestly didn't see it. It never occurred to me that it was like twilight. all in all, it was an original take on a paranormal YA series, and I LOVED it!
This series is on my top favorite YA list now. I'm about to read Jealousy and I know I'll be begging for Defiance right after I finish it!
View all my reviews