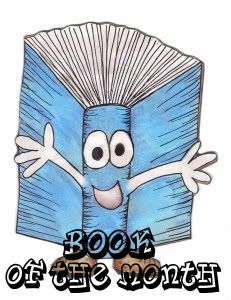 Here are the details:
1. Choose a book you have read BEFORE you started your blog that you have not posted about.
2. Post a review and why you love said book on one of the first three days of the month.
3. Posts should be in the same month that the book was published (e.g.The Post-Birthday World
by Lionel Shriver was published in March 2007, so this would be my Book Of The Month for March)
4. Give the genre
5. You can use my Happy Book or make your own button.
6. Link back to my blog and the mention of Angieville.
My book of the month for January is:
Author: Richelle Mead
Release Date: January 1st 2008
Genre: Urban Paranormal Fantasy
Synopsis:



Georgina Kincaid's job sucks.

Love hurts, and no one knows it better than Georgina Kincaid. If she so much as kisses Seth Mortensen, the shy, sexy, incredibly gifted Seattle writer she's been dating, she'll drain his life force. Georgina is a succubus-a demon who draws her power from other men's pleasure. Admittedly, the shapeshifting and immortality perks are terrific, and yes, Georgina did choose to join the ranks of hell centuries ago. But it seems completely unfair that a she-demon whose purpose is seduction can't get hot and heavy with the one mortal who knows and accepts her for who she is. It's not just her personal life that's in chaos. Doug, Georgina's co-worker at a local bookstore, has been exhibiting bizarre behavior, and Georgina suspects that something far more demonic than double espressos is at work. She could use help finding out, but Bastien, an irresistibly charming incubus and her best immortal friend, is preoccupied with corrupting an ultra-conservative talk radio star-and giving Georgina some highly distracting come-hither vibes. Georgina is going to have to work solo on this one-and fast because soon, Doug's life won't be the only one on the line.
I LOVE this series. This novel is the second installment in the Georgina Kincaid series by the amazing Richelle Mead and let me tell you...it. was. fantastic. It was romantic, yet the couples
finds it difficult
to be a couple for reasons that are pretty serious.It wasn't as
intensely
emotional as the next books to come in this series, but I found it just as compelling, if not more.
Georgina
is an amazing character. Very unique, that Succubus. She's smart, sexy and is full of wisdom, that she often forgets to use for herself. The secondary characters are also a hit for me. They really make the story come together and fill in the spaces perfect.
There's so many different characters and immortals.. There's
Succubus's
obviously, but that's just the start, then there's demons, vampires, angels imps, incubus's and a god. It's amouthful to say the least, and all are spot on with there rolls.
I can
honestly
say that Richelle Mead is one of my favorite authors since a while, and I don't see my thoughts ever changing. She's a hit, and worth a third glance, if you haven't read her stuff, get on it my friends, you won't regret it!

Frigging Amazing! Why did it have to end?!