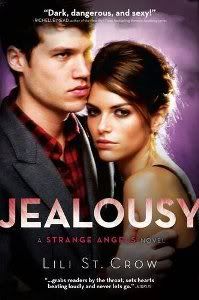 Jealousy by Lilith Saintcrow
My rating:

Frigging Amazing! Why did it have to end?!
The heart-stopping fourth novel in New York Times bestselling author Lili St. Crow's Strange Angels series.





Now that sixteen-year-old Dru's worst fears have come true and Sergej has kidnapped her best friend Graves, she'll have to go on a suicidal rescue mission to bring him back in one piece.




That is, if she can put all of Christophe's training to good use, defeat her mother's traitor, Anna, once and for all, and manage to survive another day . . .
My Thoughts:
What a book!

Lilith Saintcrow is one of my favorite authors. She really knows how to right a book. I love all three of her series, but this one is my newest addiction. Like I said in my review of "Betrayals", the first novel is a good read, the second is a great read and now this third novel was amazing.
Dru's life has been less than comfortable lately. She's out of the reform Schola and is now at the Schola Prima, "the biggest and oldest one in North America-" and the home of the Order, where she should feel completely content and protected, but she feels far from anything close to feeling content. The only time she feels safe is when she's with Graves, ...and maybe Christophe, but she's trying not to think of that.
She can't seem to catch a break when it comes to being left alone. She's still being hunted down by the Nosferatu, Anna, the only other svetocha living at the Schola Prina isn't happy with Dru's arrival and seem to have it in for her. Everything keeps changing for Dru and to top it off, every minute of every day she's being followed by her "guards". She doesn't have a minute to herself, but maybe that's not as bad as the alternative.
As always I love the secondary characters. Graves and Christophe are my favorites, as they were before, but I'm finding myself loving all Dru's friends and guards. Benjamin ,Ash, Hiro, Leon and of course Dibs and Shanks were a big hit for me in this novel.
The title says it all, "Jealousy" is a key part to novel, followed closely by treachery and secrets. It's an action packed read, that will take you on a roller coaster ride. Lilith Saintcrow seems to blossom when writing eerie, action packed scenes. She makes you think and drags you into the world she's created with Dru.
"Jealousy" was an amazing addition to the Strange Angels series, that I HIGHLY recommend to everyone. I'm counting down the days for "Definace's" release. Come onnnn April!
View all my reviews