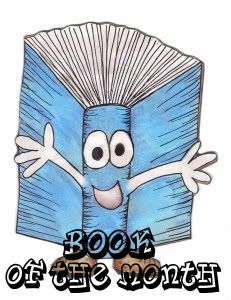 Here are the details:
1. Choose a book you have read BEFORE you started your blog that you have not posted about.
2. Post a review and why you love said book on one of the first three days of the month.
3. Posts should be in the same month that the book was published (e.g.The Post-Birthday World
by Lionel Shriver was published in March 2007, so this would be my Book Of The Month for March)
5. You can use my Happy Book or make your own button.
My book of the month for February is:
The author of The Corset Diaries returns to the realm of the paranormal in this sexy, funny romance that pits Seattle-based Aisling Grey against Drake Vireo, a seriously handsome Parisian dragon in human form. In her job as courier, Aisling is to deliver a precious demonic artifact to a Mme. Deauxville in Paris, but she finds Madame freshly dead, surrounded by a circle of ash. The artifact is then stolen by the fast-talking Drake, who claims that Aisling is no mere courier but in fact a demon lord and his destined mate. Determined to play detective, Aisling summons up a demon only to find herself saddled with one, in the form of a slobbering Newfoundland who wants to go walkies. Drake wants to show her the way dragons mate, and then bodies seem to pile up all over Paris, making Aisling a corpse magnet and top suspect. It's going to take every screwy new ally she's got to solve this murder and adjust to her new life in a strange new world. Ginger Curwen




My Thoughts:
This author is a well known author. I`m not 100% sure if this series is well known, but it should be if it isn`t. I found this on a whim a few years back and was excited to see it`s outcome.
Aisling Grey was a favorite of mine for a while, and I HATED to see it her end. I wish to read more of her and Drake, and will beg Katie
MacAlister
that as well. I`m a fan of all Mrs Alisters work, but I want more Aisling, asap! I know it won`t happen, but a girl can dream right?
This series is fantastic. If it`s a bit slow at first for anyone, please hold out, it gets better..although I liked it from the start.
Another favorite from this series is Jim the dog/demon! He`s hilarious and fits perfectly He reminds me of Jenks from Kim Harrisons`s Hollows series, which is another reason why I love him!
If you haven`t read this series yet, get on it! It will be worth the read! :D