Release Date: March 2012
Synopsis:
Life can't get much better for Sam Lock. Popular, good-looking, and with a future as a professional football player… every guy at Stanton High School wishes he were Sam. That is, until his championship football game, when Sam accidentally links with an ancient source of energy known as the Veil and reveals his potential to become a powerful sorcerer.

Sam's dreams are crushed as he is whisked off to Atlas Crown, a community of sorcerers who utilize the Veil as a part of everyday life. Once there, he trains beside a mute boy who speaks through music, an eternal sage who is the eyes and ears of the Veil, and a beautiful girl who's pretty sure Sam's an idiot.

As it becomes clear that Sam is meant for power magic—the most feared and misunderstood form of sorcery—people beyond Atlas Crown learn of his dangerous potential. An exiled group of power sorcerers are eager to recruit Sam, believing that he is destined to help them achieve their long-held goal. If they succeed, they could bring about the downfall of not only Atlas Crown… but all of humankind.
Previous Novels in series:
---
Release Date:October 1st, 2011
Synopsis:
Born into a life of secrets and service, Chrysabelle's body bears the telltale marks of a comarré -- a special race of humans bred to feed vampire nobility. When her patron is murdered, she becomes the prime suspect, which sends her running into the mortal world...and into the arms of Malkolm, an outcast vampire cursed to kill every being from whom he drinks.

Now, Chrysabelle and Malkolm must work together to stop a plot to merge the mortal and supernatural worlds. If they fail, a chaos unlike anything anyone has ever seen will threaten to reign.
Previous Novels in series:
N/A
Source: Rabid Reads
---
Release Date:February 12th, 2012
(Summary non-spoilery & not final.)

Two weeks after the events of The Iron Witch, reluctant alchemist-in-training, Donna Underwood, must face the consequences of her actions--actions that some believe make her a traitor.

At the same time, Donna's iron tattoos are acting strangely and she experiences bleak visions filled with warnings of a coming darkness. When the Wood Queen steps into her life once more, it appears that Donna's role in the centuries old war against the fey is very far from over--only this time it is her mother's life that hangs in the balance...
Previous Novels in series:
---
Release Date: 2011
Synopsis:
A maximalist, post-apocalyptic, neo-Victorian steampunk zombie novel in which a girl, whose blood is impervious to the "Z-virus," searches for her missing dad, is kidnapped by (good) zombies, falls improbably in love with a rather sweet zombie boy, and sets out to save the world from a zombie plague beyond imagining.
As far as romantic pairings go in the year 2195, you don't get much more unlikely than an upper-class schoolgirl and a poor miner from enemy tribes. Filter in the fact that he's a zombie, and you're definitely talking about star-crossed love.
Dearly, Departed is a cyber-Victorian/steampunk romance that takes place in the shadow of a new ice age. Nora Dearly, a mouthy teenage girl and apparent orphan, leaves school for Christmas - only to be dragged into the night by the living dead. Luckily for her, though, the good ones got to her first. From her reanimated rescuers she learns not only that zombies are roaming the countryside, but that her father is one - and that he's in terrible trouble. She also meets Captain Bram Griswold, a noble, strong, and rather sweet undead boy for whom she starts to fall.
Meanwhile, her best friend, Pamela Roe, is just trying to carry on with life as best she can in the wake of Nora's disappearance - when she ends up killing an evil zombie in self-defense. Pam is galvanized into action, and ends up leading a group of survivors as the city of New London is thronged by the ravenous dead.
Upon hearing of Pamela's plight, Nora and Bram set out to rescue her friends, find her missing father, and maybe just save what's left of the world.
Previous Novels in series:
N/A
---
Release Date: November 1st, 2011

Synopsis:
N/A
Previous Novels in series:
Source: Wicked Scribes
---
Release Date:N/A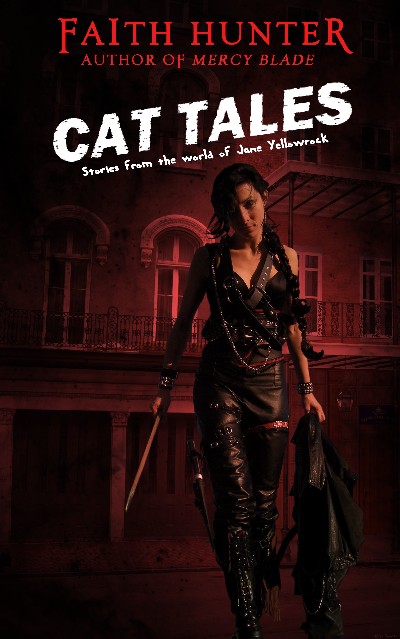 Authors comments:
"

I am so freaking psyched! I have been on pins and needles waiting for the new Jane Yellowrock short story book cover. And here it is! I am drooling!

" – Faith Hunter
Previous Novels in series:
Source: Faith Hunter's Blog
---
Release Date:December 2011
Synopsis:
When Katelyn starts at her new school the only person she knows is the handsome and intriguing Trick Sokolov, an acquaintance of her grandfather. She's surprised when the popular Cordelia Fenner invites her home and when she meets Cordelia's hot brother, she begins to think her new life might be ok after all. But as she spends time with the family, she realises that the Fenners are harbouring a deep dark secret. Every bone in Katelyn's body tells her that the Fenners are mad, bad and dangerous to know - but how can she give up her only friend, and how can she ignore the way Justin sets her blood on fire with a single look? Katelyn finds herself caught between three major werewolf clans who have been at war with each other for centuries - a war, it seems, that Katelyn is destined to end.
Previous novels in series:
---