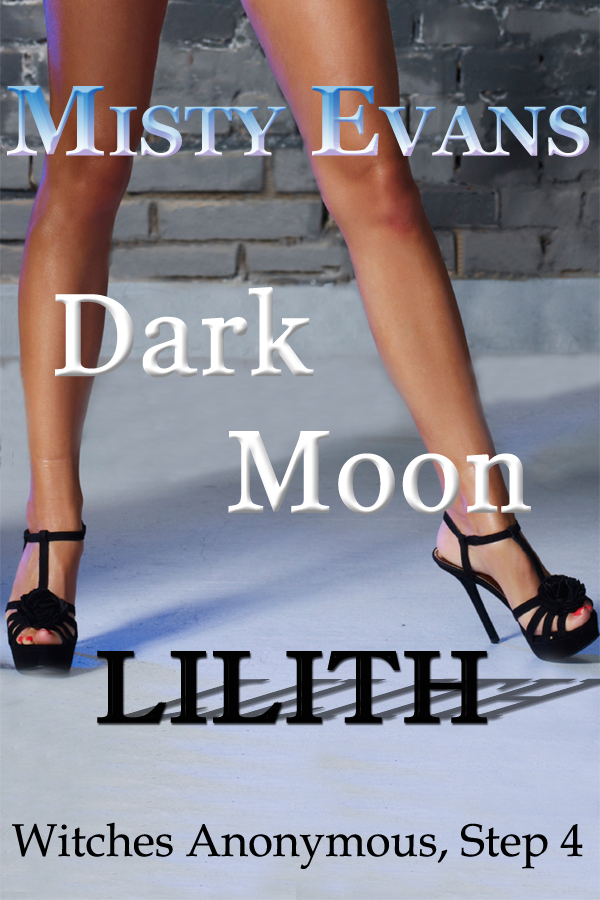 Dark Moon Lilith (Witches Anonymous, #4) by Misty Evans by Misty Evans
My rating:
1/2
This book is one you don`t want to miss!
Synopsis:
Ex-witch Amy Atwood is on probation from Witches Anonymous for slipping off the magic-free band wagon. Her love life is also on probation and her sexy, irresistible ex, Lucifer, is tempting her to come back to him. On top of that, her ice cream shop is losing money faster than ice cream melts in June, thanks to a rotten economy and an archangel who's eating up all her profits.

Struggling to save her shop and stick to her magic-free oath, Amy commits to Step 4 of Witches Anonymous—examining her moral character. Before she can dig too deep, a nascent witch shows up and Amy must take Mikayla under her wing to keep both good and evil from getting their hands on her innocent soul.

Unfortunately, Lilith, the Queen of Hell, wants Lucifer back and has decided to test more than Amy's moral character. She sends three assassins after Amy. One to poison her, another to burn her apartment to ashes, and the third is taking Amy to Hell.

Will Amy live to see another day? Or will she team up with Lucifer to kick Lilith out of Hell and become queen herself?


* I'm very excited to review this novel, not just because I love this series, but also because I was one of the winners to name a character in this novel! My character is the fire starter assassin named Natasha Anayas! Check her out, she's pretty cool! *
Review:
Dark Moon Lilith is the fourth installment in the Witches Anonymous series by Misty Evans. The first thing I want to say is this, "This series is fantastic!" I was hooked from book one and I always look forward to the newest release. I like that each novel is fairly short, being approx. 100 pages or slightly more. You get a quick, fun read, with enough of a story for you to enjoy.
This time around Amy is on probation from Witches Anonymous. You'd think her life would then turn dull? Not even close. I won't give too much away since you get the jest of it from the synopsis, but I can say that Amy has a lot to deal with in this time around. Even for her, it's much. But that won't keep Amy down.
This series has some pretty awesome characters, but none as awesome as Lucifer. Yup, the "devil" himself. You'd think he'd be a character you'd hate, right? Well if you read this series, you'll know that's not the case. I love when Amy and Luc interact. Their chemistry is always exciting.
I still love Adam (THE Adam, from Adam & Eve, as in..the birth of the human race) but I find that Amy and Luc have a chemistry that can't be beat. I won't give anything away for Amy's love interests, but I will say that, I'm slightly jealous. *wink*
There's a few new characters introduced in Dark Moon Lilith and over all, I liked them. Lilith, the Queen of Hell can be a b***h, but frankly, she brings something interesting to the table and I enjoyed reading the scenes with her.
If you haven't read this series, I recommend that you check it out. If you have read the previous novels, then look forward to another great one!
Previous Reviews for this series:
Witches Anonymous
Jingle Hells