Before I start this post, I want to apologize for my lateness in posting my two zombie novel reviews from this past week. I have my reasons, (family/animals heath problems) but I still wish I could have gotten them posted on time. I will be posting them for sure and hopefully within a day or two. I just wanted to make sure you all know I didn't skip out on my event on purpose!
Now, on to my post! ...Sort of.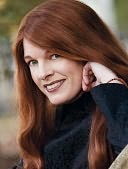 I love witches. I have many favorite witches, but it was pretty obvious to myself that I'd choose Rachel from the Hollow series by Kim Harrison. I absoutly love The Hollows series and all it's characters. Rachel, Jenks,
Trent, Al, Ivy, etc., they are all brilliantly written. Today's post is my favorite witch, so I'll try to keep it to just Rach, but it's just so hard not to gush about them all. If you want, you can read my favorite creature post where I chose Al, who is a very dark and fantastic character.
Okay, enough of the other characters, this post is about the lovely Rachel.
Wikipedia says:

Rachel Mariana Morgan




A witch-detective initially working as a runner for the Inderland Security (I.S.) service. She procures three wishes from a leprechaun she apprehends on her last run for the Inderlander Security service and uses a wish to get her independence. She makes a deal with the living vampire, Ivy Tamwood, and the pixy, Jenks, to give them the remaining wishes for their assistance in leaving the I.S. The three create the Vampiric Charms freelance runner service, and take various runs, or 'missions', both together and separately. In earlier books, she works to remove a death bounty placed on her by her former employer as well as freeing herself from a demon's debt. In the most recent books, Rachel finds herself learning about and using ley line and demon magic, both in order to do her job and protect her life and the lives of her friends and family. She is deeply ambivalent about using dark magic, but will continue to do so when she finds it necessary. Her aura's initial color is gold, like Trent's and Algaliarept's.
Rachel is a strong female who has gone through more in a few years than many have in their whole lifetime. Actually, considering she's a witch and lives in a different world than ours, it's obvious she's gone through harder times. She fought her fellow witches, pixies, demons, werewolves, elves, humans and so much more. She has such bad luck when it comes to love, I won't go into my favorite of her past relationships because it would give too much away to early readers of the series, but even if I could I'm not sure I would. One of her relationships ends tragically and I hated it. I think everyone wanted him back, but I guess then many new characters wouldn't have played their roles. The show must go on!
Some random Rachel quotes:
"A witch, a vampire, and a pixy walk into a bar, I thought as I led the way into the Squirrel's End. It was early, and the sun had yet to set when the door swung shut behind Jenks, sealing us in the warm air smelling faintly of smoke. Immediately Nick yanked it open to come in behind us. And there's the punch line."
"Ivy!' I stammered, then glared at Kisten. 'You told Ivy? Thanks a hell of a lot. Want to call my mom next?"
"Jenks enthusiastically leaned against the counter and opened the box. Bypassing the plastic knife, he broke off about a third of it and took a huge bite. Ivy watched, appalled, and I shrugged. His mouth moving as he hummed, Jenks finished unpacking the sacks. I was half dead, Ivy was whoring herself to keep me safe, but Jenks was okay as long as he had chocolate."
"Hey, you freakin' bastard," I breathed. "You hit me again and I'll take care of your family planning."
"Having been a demon curse, however brief, should leave a mark. A streak of silver hair, or bewitching eyes. Maybe crows on one's roof or a hound from hell at your heel. Blowing out my breath I stood and squinted at my reflection. A black eye. Swell."
Fan Art:
(*I found theses on Google. I do not own these, I'm just displaying them*)