Who is Hart Mackenzie's perfect match? Eleanor Ramsay doesn't know--she jilted him all those years ago--and now all she wants from the devastating duke is a job. Or so she tells herself. Persuading him to hire her as an assistant to his secretary is tricky, but Eleanor has a trick or two of her own up her sleeve...
Previous Novels in series:
I don't know. Most historical romance covers are cheesy, but this one really doesn't bring much to the table. There's nothing wrong with it. The guys an obvious hunk, but it's just not that unique. For the HR theme, it fits.
---
Release Date: April 3rd, 2012
Synopsis:

Playing by one's own rules is tempting danger for a female mercenary and a mysterious stranger in Shiloh Walker's new novel in a "scorchingly hot"* series…

His past is a mystery, even to him — a werewolf with memories so lost in a fog that even the Hunter's healers cannot help him. Two hundred years ago, Toronto awakened on an unfamiliar street, naked and alone. Dogged by the unanswered questions of his enigmatic existence, he fears he will never find the missing pieces of the puzzle that is his life.

The vampire Sylvia is no Hunter. She's a take-no-prisoner mercenary that just barely skates this side of what the Hunters consider acceptable. She has no use for them, their laws, their rules. All she wants is to hunt her quarry, and make a lot of money. Her newest prey is a killer as devious as he is slippery. But her newest complication is of a more intimate sort: A blonde, blue-eyed werewolf who interferes with her plans in so many exquisite ways.

Previous Novels in series: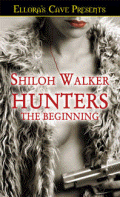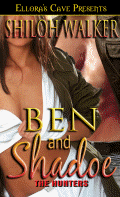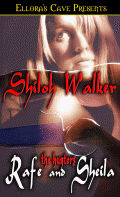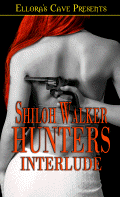 My Thoughts:
I like it. Her series always has a theme and sticks with it. The previous novels I posted are of her new covers. (Those ones, I don't like..)
---
Release Date: March 6th, 2012
Synopsis:
1. Any creature whose existence has been suggested but not proven scientifically. Term officially coined by cryptozoologist John E. Wall in 1983.
2. That thing that's getting ready to eat your head.
The Covenant of St. George was founded to uphold one simple ideal: anything that was not present on the Ark—anything they deemed "unnatural"—needed to be destroyed. Monsters. Creatures of myth and legend. All of them would be wiped from the Earth in the name of Man's dominion. Unfortunately for them, not all the monsters agreed with this plan...and neither did all the human beings.
After their rather abrupt departure from the Covenant, Alexander and Enid Healy found themselves alone in the world, but with a simple mission of their own: to protect the cryptids of the world from those who would harm them without just cause. It was a cause that would eventually claim both their lives, leaving their children, and their childrens' children, to take up the fight. Now in the modern day, their descendants struggle to stay beneath the Covenant's radar, while defending the cryptids from humanity—and humanity from the cryptids.
Previous Novels in series:
None
My Thoughts:
I really like it. I's unique, the colors are eye catching and the model is super cute. I love the color of her outfit, but the school girl look. Really? If their school was made to fight evil, you'd think their dress code would be pants. *shrugs*
---
Release Date: April 24th, 2012
Synopsis:
Magick. Murder. Mayhem. It's all in a night's work…
After narrowly escaping her fate as a sacrificial scapegoat, Arcadia Bell is back to normal. Or at least as ordinary as life can be for a renegade magician and owner of a tiki bar that caters to Earthbound demons. She's gearing up for the busiest day of the year—Halloween—when a vengeful kidnapper paralyzes the community. The influential head of the local Hellfire Club taps Cady to track down the fiendish bogeyman, and now that she's dating red-hot Lon Butler, the club's wayward son, she can hardly say no.
Cady and Lon untangle a gruesome thirty-year trail of clues that points to danger for the club members' children. But locating the person behind the terror will require some metaphysical help from Cady's loyal bar patrons as well as her potent new Moonchild powers—and she'd better figure it out before the final victim disappears and her own darkest secret becomes her biggest enemy.
Previous Novels in series:
Source: Authors website
My Thoughts:
Hrmm.. It's hard to say. I like the colors and over all look, I just don' like that you can see Arcadia full on. I rather the first cover, but this one's okay. As for the story, I'm super excited to read it!