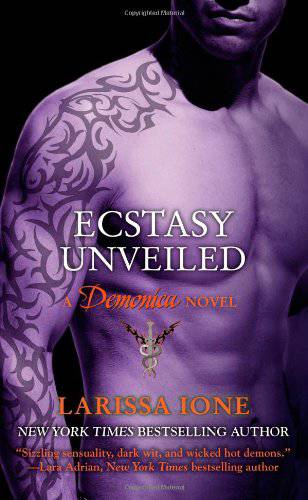 Ecstasy Unveiled by Larissa Ione
Synopsis:
A DEMON ENSLAVED
Lore is a Seminus half-breed demon who has been forced to act as his dark master's assassin. Now to earn his freedom and save his sister's life, he must complete one last kill. Powerful and ruthless, he'll stop at nothing to carry out this deadly mission.
AN ANGEL TEMPTED
Idess is an earthbound angel with a wild side, sworn to protect the human Lore is targeting. She's determined to thwart her wickedly handsome adversary by any means necessary-even if that means risking her vow of eternal chastity. But what begins as a simple seduction soon turns into a passion that leaves both angel and demon craving complete surrender.
Torn between duty and desire, Lore and Idess must join forces as they battle their attraction for each other. Because an enemy from the past is rising again-one hellbent on vengeance and unthinkable destruction.
Review:
Another fantastic installment in the Demonica series by Larissa Ione. It's funny how, I've only just started her series the past few weeks, but I feel that I've been reading along with them since they started. I'm excited for each one the same as I am after waiting for some of my favorites for a year. I really enjoy this series.
Another thing I love about this series is it got my out of my rut. Don't get me wrong, I love historical romances, but for the past while, that's all I've read. I got hooked on that one genre and didn't know how to get back into anything else. I then decided to pick up the first novel in this series on a whim and I'm soooo glad I did.
This story's main couple is Lore, who is a half brother of Wraith, Shade and Eidolon. He's relevantly new to the series, growing up now realizing he was half demon, let along their brother. I felt truly bad for him. He got the hard end every time a new scene came. He was blamed for every thing, and I know, he did seem best suited for the blame, but man it was hard to read so much blame. That didn't stop me from reading on of course. I also loved how even though he's part incubus, he is still naive and almost innocent in some ways. No many though. *laughs*
Idess is an earthbound angel, begging for her wings. She believes this last task for her will be her last to prove herself, but it's not going to be easy when someones trying to kill those she's swore to protect.
I really liked her character. She was loyal, tough and obviously something special, to make Lore look her way so long during all this chaos.
I can honestly say, I didn't know how they were going to figure out a way for everyone to win. Every time I started a new scene or chapter, more problems were piled on. It left me with a fantastic time trying to put the pieces together, but I truly believed it was impossible for everything to end well. Larissa Ione really out did herself with such a great plot and perfect structure to this story in particular. Everything flowed nicely and we got into a few heads that I've wanted to know more about. It was great.
I HIGHLY recommend this series. If you haven't started it, do so! I was where you are a few weeks back and now I'm super glad I finally picked up book one. You won't regret it.