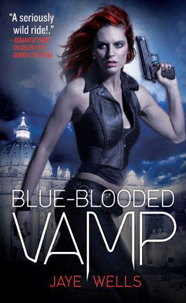 What's up for June? Well, it seems that the spring and summer months are going to be my busiest since October. I'm super happy with this month's line up and I can't wait to read some awesome new releases.
For my list of giveaways, guest posts, interviews, etc. There's a possibility of minor date changes. It will be the same month, but maybe a day of two in the difference, but so far this is what's locked for this month.
I would like to list scheduled posts as well, but because of work and because I do many random 'of the moment' posts, I can't predict all of what I'll be posting..
June 2012
1st- Post on Sabrina Kane from Jaye Wells, Sabrina Kane series. Blue Blooded Vamp release!
7th

- Guest Post/Giveaway with Fayth Devlin
11th
- Guest Post/Giveaway with Marissa Farrar
13th
- Guest Post with Jess Haines
18th
- Guest Post/Giveaway with Myra Nour
20th
- Medusa: A Love Story by Sasha Summers Interview/Promo *subject to change*
21st
- Guest Post by Jess Haines
25th- Post on Risa and the Dark Angels series by Keri Arthur. Day before Darkness Devours release!
26th- Post on Vlad and the Night Huntress World/Night Prince series by Jeaniene Frost. Once Burned release!
27th
- Guest Post/Giveaway with Sandra Bunino
29th
- Date Pending...
T
our for Beta Test by Eric Griffith
If you see in the title that *UPDATED* will be added to it, then check it out again because I would have added new stops and fixed dates on pending stops.
I hope to see you guys for these posts. Thanks for following and sharing my love of books with me!